Hi, I'm Ray G4NSJ. My QTH is Worthing, on the lovely West Sussex coast. Locator IO 90 TT.
I'm active on two metres, scanning several channels but usually loitering on 145.5625MHz where local chats take place. I also monitor the GB3WO 70cms repeater in Worthing, West Sussex. We have a local net on the 160 metre amateur band, 1980kHz. This is where a few of us gather at various times of the day, mostly afternoons.

My HF rig us a Kenwood TS570D. It's a nice radio but I do suffer from bad interference here on the lower bands. My HF aerial is a 150 foot doublet fed with 300 ohm ribbon.
I haven't had a cw contact since the late seventies so I'm brushing up on my Morse Code. I've just acquired a new key which I believe was the type issued to the Czech army in the early fifties. It's really nice to use.
I've just put up a 2 metre – 70cms collinear aerial. The base is only 14 feet above the ground at the moment but it's performing very well. The aerial is a Watson W50. I'm wondering whether to stick the aerial on a 20 foot pole. Bearing in mind the added loss in the coax, would the extra height be worth it? The seagull was hanging on the wind, probably watching me!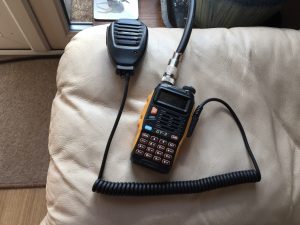 The radio I'm using temporarily with the aerial is a Baofeng GT-3 hand held. I also have a Baofeng UV-5R hand held. Both are nice little rigs covering marine and a host of other things as well as 2 metres and 70cms. I now use a short length of thinner coax to connect the radio to the RG213 coax. It's far better than taking the heavy coax straight to the radio, as in the photo.
This is my Marconi CR100 communications receiver. They were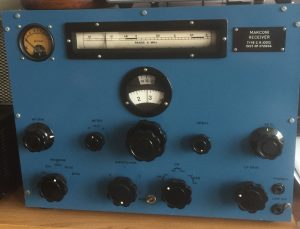 popular in the 1960s but are fairly rare these days. This isn't my original receiver from the good old days but it's a lovely example. I spent many happy hours listening to the CCF frequencies, the trawler band, the amateur and broadcast bands and much more. The aerial I use for the CR100 is a simple wire, 80 feet long.
Give me a shout on GB3WO if you're within range of the repeater. I'm usually listening in my workshop during week days.
AMATEUR RADIO VIDEOS
Introduction video plus the Watson W50 2 metre 70cms aerial.
Setting up an ATU SWR meter HF radio and aerial
I'm working on this web page at the moment but, once it's up and running, I'll be describing aerials for top band, a vertical for 20 metres and much more. I'll also be adding videos and other goodies for beginners and old timers alike.
Keep an eye on this page… if you're interested, that is!
If you have any ideas or suggestion, either email me or use the quick form below.
Please note: I do not repair amateur radio equipment.