Welcome to 4 metres, the friendly band.
I'm now active on the 4 metre 70MHz amateur band, monitoring 70.450MHz. It's been twelve years since I was last on the band so I'm really enjoying it. My main rig was an Anytone AT5189 FM radio. However, I'm now using an Anytone AT588. My aerial is  Sirio CX 4-68 vertical at 20 feet fed with RG8X coax. My QTH is Worthing, on the Sussex coast. Give me a call!
Update – 9th October 2019.
The aerial has arrived. As you can see from the photos, I'm sealing the joints where the ingress of water might cause problems. The aerial is extremely well constructed but, as with even the most expensive aerials, it's best to seal the joints as a safeguard.  I've used Araldite around the base of the rubber skirt surrounding the S0239 socket. Once the PL259 plug in screwed in, I'll cover the whole thing with self-amalgamating tape. I've used silicone sealer where the base of the aerial meets the mounting bracket. I've used self-amalgamating tape where the aluminium rod meets the brass section but I've left the drainage hole open, see photo. Sealing this joint will keep water away from the joint and help prevent electrolysis occurring.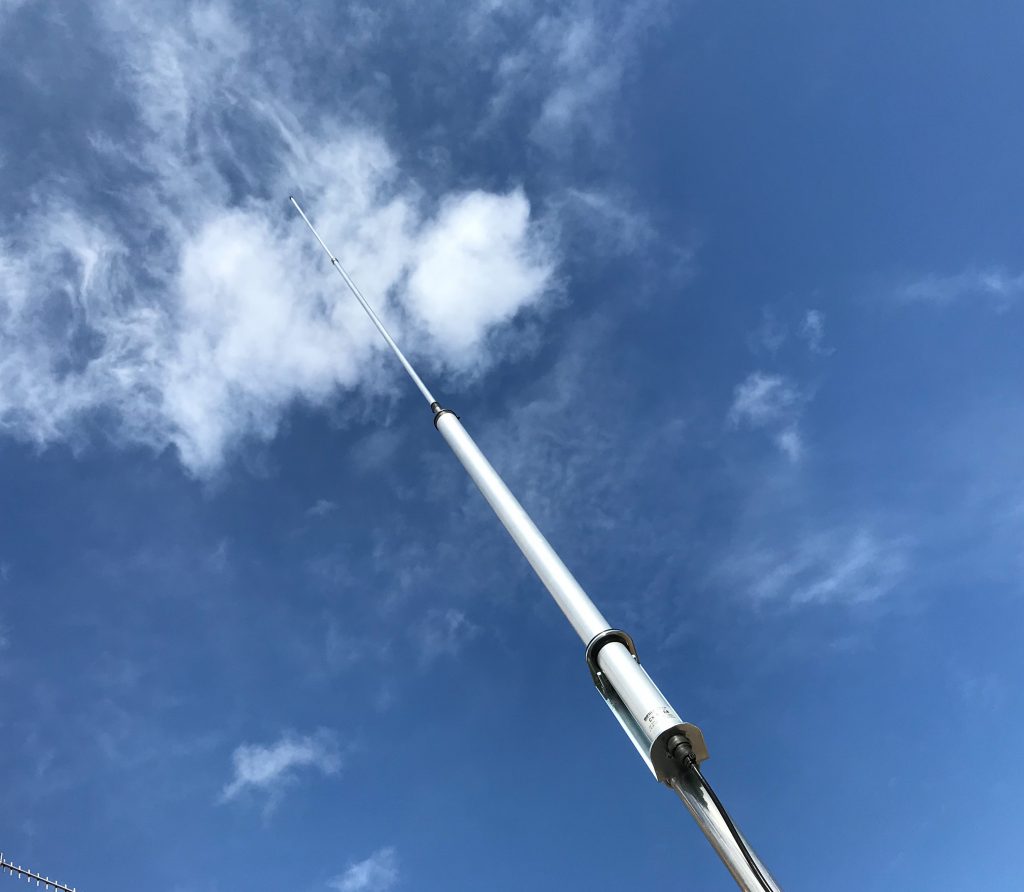 My Sirio CX 4-68 70MHz aerial.

I'm using an Anytone AT5189 FM radio for 4 metres.
Update – 10th October 2019.
I'm not obsessed with SWR but, 1.5:1 was too high for my liking. After repeated adjustment of the telescoping top section of the aerial, and some bad language, I've finally achieved an SWR of 1.2:1 in the centre of the band. It was raining so I got wet in the process. But it was worth the effort.
The base of the aerial is only 8 feet above the ground but it's working well. At some stage, when the weather improves, I'll get the aerial higher up.
Update – 12th October 2019.
Worked some real  DX today… all the way to Mark in Pagham. That's 16 miles as the RF flies! The base of the aerial is now at 12 feet above ground, which has improved things greatly. Height  is very important at these frequencies. Raising the aerial by a mere 4 feet has brought received signals up out of the
Update – 22nd October 2019.
I've now added the coax RF choke, 4 turns about 4 inches diameter, which should stop the coax radiating. The  SWR is 1:1.1 so I'm happy with that. The base of the aerial is still only 12 feet above the ground. I'm planning on increasing the height soon.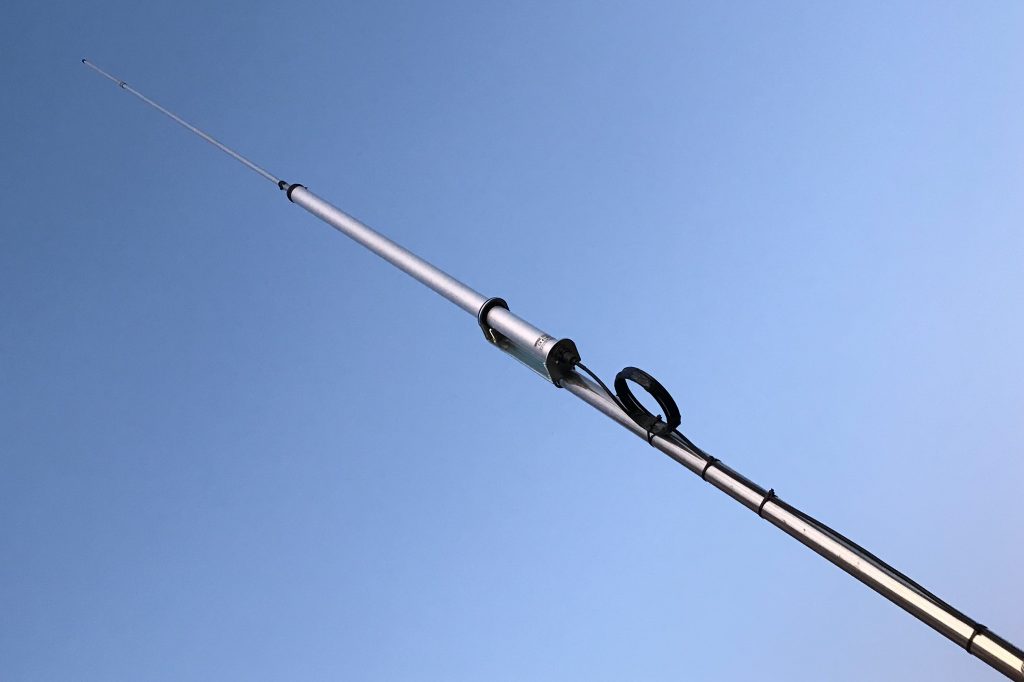 Update – 26th October 2019.
The aerial was 3 metres away from the back of the house and stations to the north and north west were down in the noise. I've now moved the aerial 6 metres away from the back of the house, still at the same height, and the results are amazing. Stations in all directions are now fully quietening! In fact, a station 0.5 miles to the north of my QTH increased my report from S9 to S9 plus 20dBs.
Positioning your aerial.
You might have experienced an FM station on your car radio fading as you stop in a traffic queue. Drive forward a few feet, and the station becomes very strong once again. Moving your 4 metre aerial upwards to gain height is obviously a good idea. But, at these frequencies, it might be an idea to move the aerial well away from buildings and other large objects. A few feet can make all the difference.
As a matter of interest, the instructions suggest mounting the aerial at least four metres away from large objects, such as a house. As a further matter of interest, four metres is a full wavelength at 70MHz.
Propagation on 4 metres.
Most types of skywave propagation use the Earth's ionosphere to refract or bend radio signals back to the Earth's surface. With sporadic E propagation, the signals are reflected by small clouds of  ionized gas in the E layer. This can allow long distance communication at VHF frequencies.
A mobile station and I carried out some tests.  The mobile drove north and the only time I lost him, momentarily, was when he was behind a 463 foot chalk hill, shown on the contour map. It was an interesting experiment with excellent signals most of the time. The distance between us was three to four miles. The results surprised us both and we agreed that 2 metres and 70cms wouldn't have been anywhere near as good.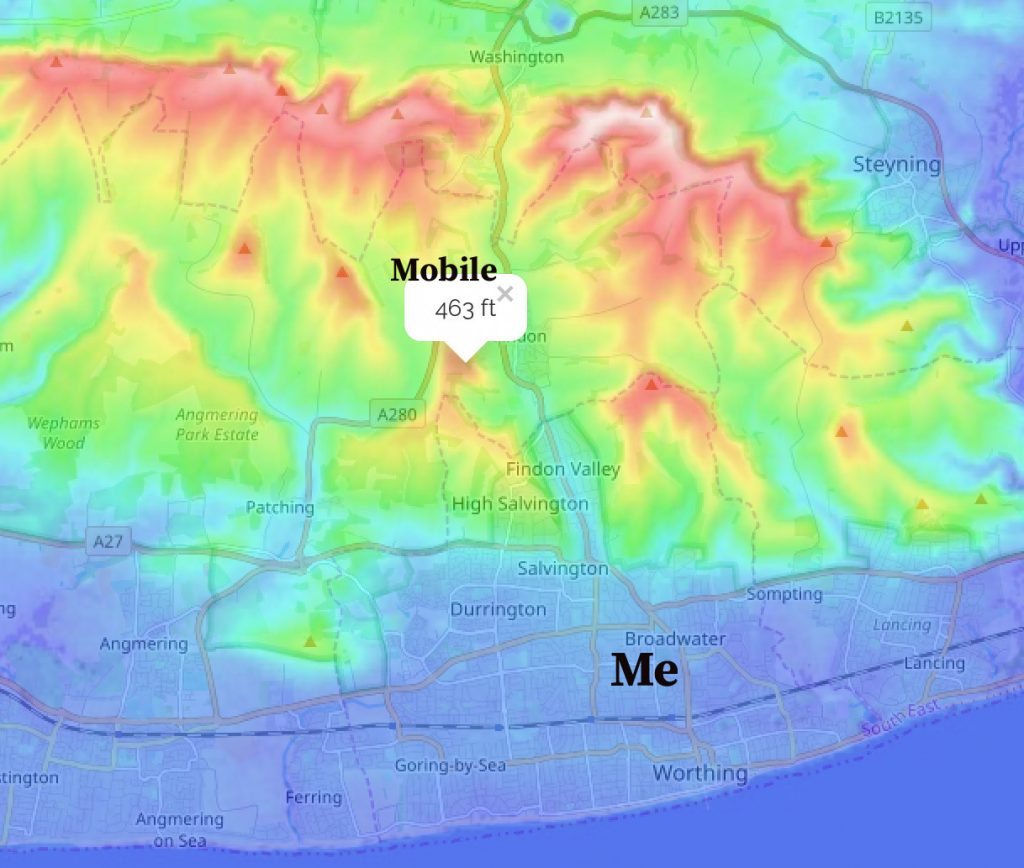 Update – 6th November 2019.
This, hopefully, is the final position for the aerial. I'm not moving it again! The base of the aerial is now 18 feet above the ground and well clear of the house, see photo on the right. Reports so far are favourable and received signals are much stronger. The aerial is mounted on a 1 1/2 inch pole which is atop a 2 inch pole. The mast will need a guy rope half way up on the west side to keep the aerial stable during westerly winds. The photo on the left shows the professional mounting assembly… the pole tied to the rabbit run. And there are the rabbits! Click on the photos for a larger image.
The winter is coming…
What better way to spend a winter evening other than monitoring 4 metres by a coal fire with a real ale?
Update – 9th November 2019.
The 4 metre amateur band is now busier than our local 70cms repeater in Worthing, West Sussex. This afternoon, there were several stations on the band… seven, if my memory serves me correctly. We were checking out aerials, discussing 70MHz radio equipment, including PMR gear manufactured by Tait Radio, and generally keeping the band alive. Use it or lose it? We're doing our best to use it in sunny Worthing!
But, there's more… one of our group has been mobile on 4 metres. Hopefully, we'll have two or three mobile stations on the band before long. It's an interesting band, not least as far as propagation is concerned. Aircraft flutter is a regular occurrence as we are all fairly close to Shoreham Airport. QSB on mobile as well as base stations is often very slow. Also, unlike the higher frequency VHF and UHF bands, there are nulls and black spots between some stations on 70MHz.
Update – 13th November 2019.
I took the aerial down again, even though I said I wouldn't. Having raised it to 18 feet, and moving it a little further away from the house, I noticed that the SWR was approaching 2:1. Not good! Also, I needed to finalise the waterproofing… silicone sealer, self-amalgamating tape, spray varnish etc. The varnish isn't really necessary but it helps to keep moisture out if sprayed over the taped joints and over the tape covering the Pl259 plug. The aerial is now performing better that ever.
Update – 16th November 2019.
We're going mobile! Several of us have ordered Tait 2010 PMR radios for mobile use. They have 4 channels and run 25 Watts. With a quarter wave whip aerial on my car, I'm looking forward to heading up to the top of the South Downs and working some DX. Well, possibly some contacts a few miles away.
SWR.
Firstly, get a decent SWR meter. Most of the CB types won't work at VHF. Yes, the meter will register. But you will have false readings at 70mHz and above. I use the Zetagi 203W.
A word of warning: moving the Sirio aerial up or down, or in any direction, can affect the SWR considerably. This isn't necessarily a bad thing but, to repeatedly take the aerial down to adjust the top section is time consuming and very frustrating. However, it's worth it. Get it right and, once it's installed, it should serve you well for many years. This also applies to the waterproofing process. Spending a few hours now will save a lot of misery later.
Going mobile.
My Tait T2010 radio has arrived! Four channels, 25 Watts. I believe there are now seven of us using Tait low band VHF radios on 4 metres. I hope to be mobile very soon, once I've sorted out the aerial and found somewhere in the car to put the radio.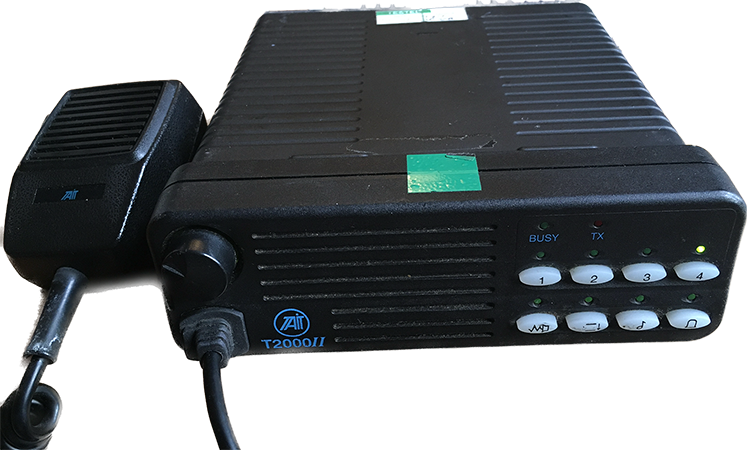 The Tait T2010 radio is now fitted in the car.  I hadn't got a clue where to put the radio so my wife said she'd have a look and… there you go, job done! I should have asked her in the first place. It's in the passenger foot well to the left of the centre console. I've used a cable tie fixed to a couple of metal rods which support a net bag for maps or whatever. It's out of the way and yet easy to reach, but I might have to lengthen the microphone lead as it's a bit of a stretch at the moment. I hate modern cars! Horrible grey plastic dashboard, nowhere to put anything… Grr! Bring back the old cars with a parcel shelf and plenty of places for radios. And easy access to 12 Volts.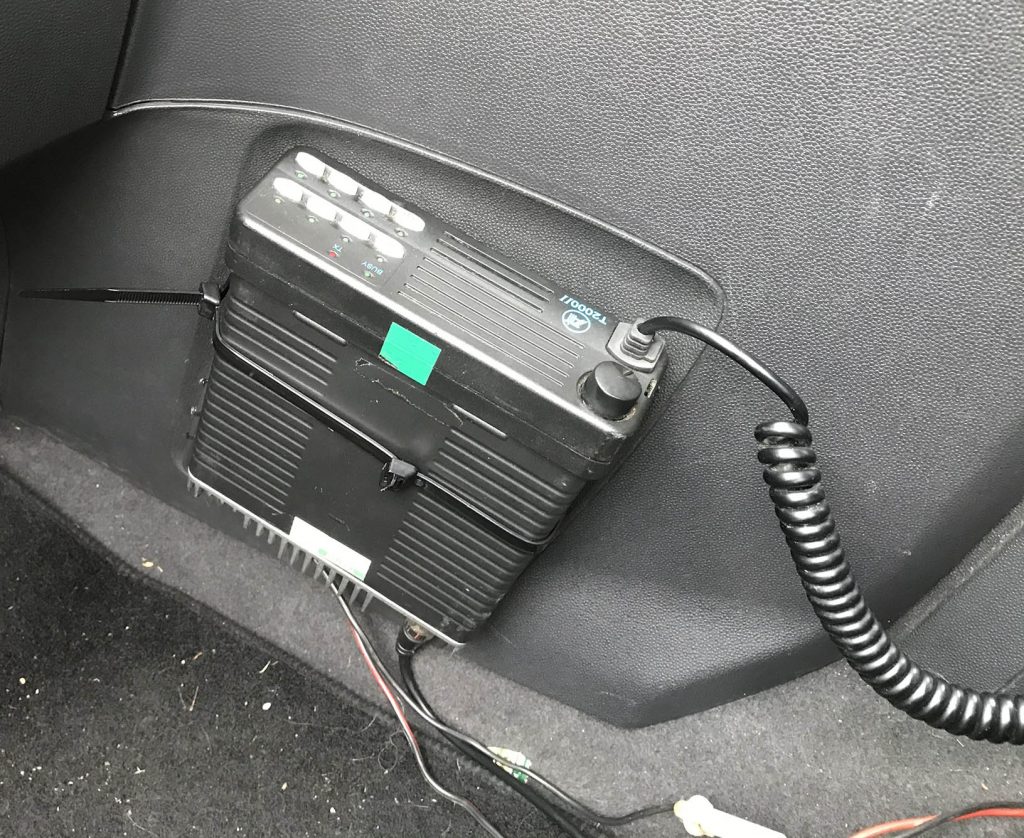 I've had to lengthen the mobile aerial by an inch or so by sticking a crock clip with a short piece of wire on the top. SWR is now 1:1. This is a temporary measure just until I get round to extending it properly.

Update – 23rd November 2019.
First mobile to mobile contact this evening. We were only about a mile apart but there was considerable flutter. I was stationary at the railway crossing gates, parked between buildings, so I was probably in a black spot. Good fun, though.
Update – 5th April 2020.
The 4 metre amateur band is now humming with activity in and around Worthing in West Sussex. A call on 70.450MHz is rarely met with silence. In fact, 4 metres is now busier than 2 metres. I never thought that would be the case!
Update – 13th May 2020.
In the car at Honeysuckle Lane car park in Worthing. Me on the mic and the Isle of Wight in the distance.
Update – 18th May 2020.
My new radio arrived today… it's another Anytone AT-5189. Why do I need two? My Tait T2010 I used in the car developed a fault… the internal speaker is knackered.  I can use it with an extension speaker but I don't want that arrangement in the car.
I was going to buy an AT-588 but everywhere seems to be out of stock. In fact, I think I had the last AT-5189 in the country! I'm pleased, because the 5189 is more of a PMR radio. It has a front speaker, which sounds great, and it's pretty basic to use. Having said that, there's nothing basic about the quality of this radio. I'm off to Truleigh Hill tomorrow to give it a go.
Update – 19th May 2020.
Heard Russian broadcast station VSE FM today on 69.080MHz when I was static mobile between Mill Hill and Truleigh Hill north of Shoreham. I was scanning 66 to 88MHz on the Anytone AT-5189 when a loud Russian voice emanated from the speaker. A good day for sporadic E. Photo below, looking south from Mill Hill at the Shoreham Flyover and the River Adur.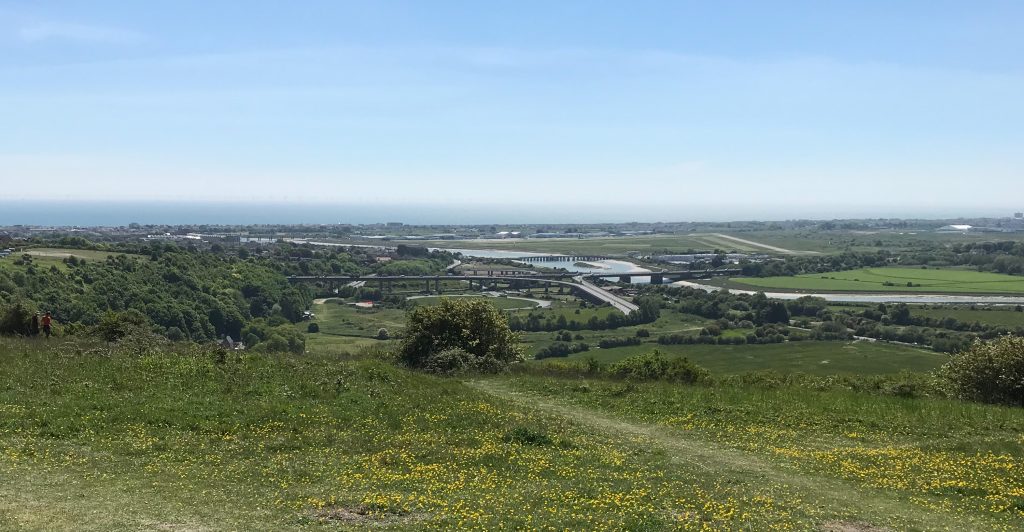 Update – 14th June 2020.
I'm now using an Anytone AT588 radio as my main rig in the radio room. See photo below…

Update – 16th June 2020.
Took a trip up to Kithurst Hill today. From the Isle of Wight to Surrey, the view was amazing! However, 4 metres was dead. I had a chat to a couple of local stations but, apart from that, nothing! I think there's far less activity on 70MHz than I thought. Watch the video for a lovely view of the West Sussex countryside.
Update – 18th June 2020.
There was a bit of a lift on today. I heard a Russian FM broadcast stations on and around 4 metres. The strongest was Radio Mayak FM from Russia on 72.140MHz. Another strong Russian station was on 66.140MHz.
Update – 23rd June 2020.
I'm now using a Tait 25 Watt 70MHz radio in the workshop. It has its own aerial, see photo below, which isn't very high but it's great for local chats. I can also keep an ear out for any misbehavior among the locals on 4 metres! I might sneak the aerial up a little higher when no one's looking. Having said that, I've had several very favourable reports so it might stay where it is. If you're keen to get onto 4 metres but you're worried about the neighbours, try a dipole at shed roof height.  Actually, the centre of the dipole is 10 feet above ground. You might be surprised!
Bt the way, the manufacturer of this aerial reckons it's pre-tuned to 70MHz. The SWR was 1.5:1 which I felt was too high. After cutting an inch off each end, I got the SWR down to 1.2:1. I didn't buy the aerial new, it was second hand. Out of interest, you might like to read about my results when using this aerial in my attic. See here.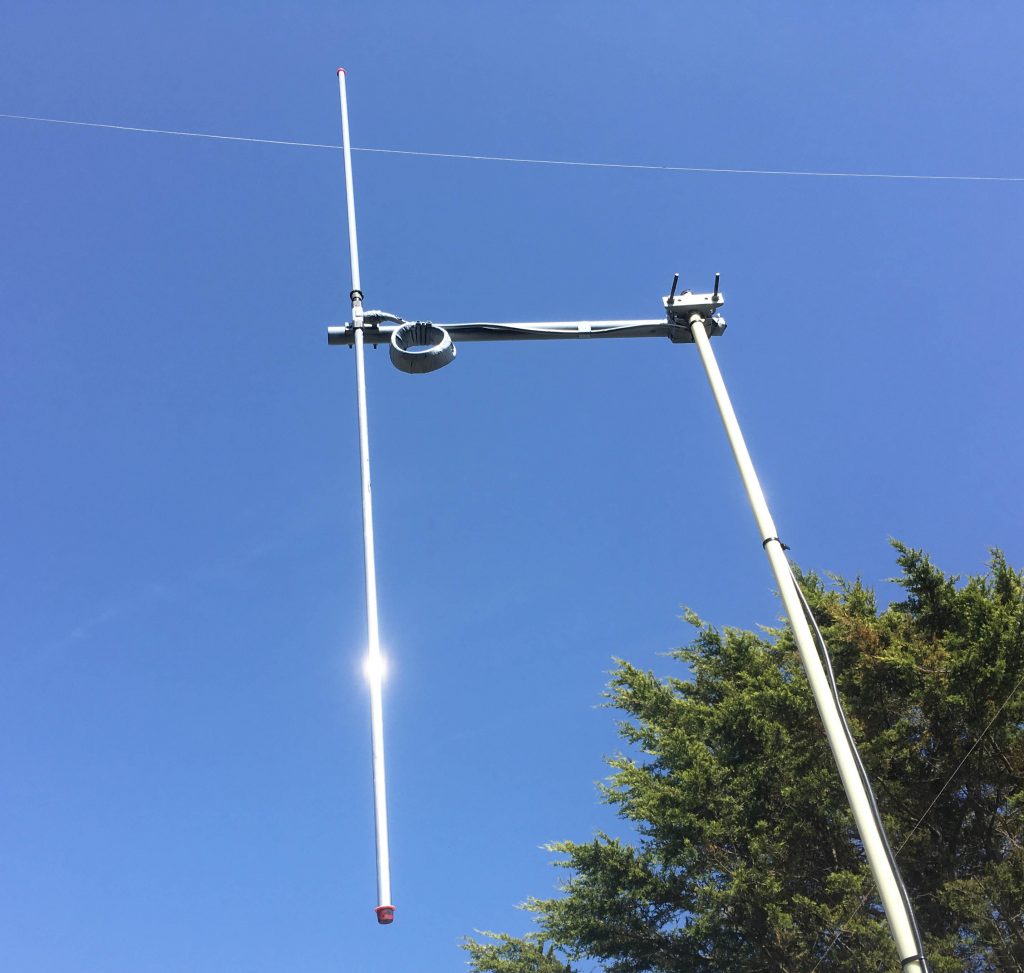 Microphone extension lead.
If you need a microphone extension lead for mobile use, you'll need a 6pin RJ12 lead. This one from eBay works perfectly. It's made life so much easier! I no longer have to stretch the mic lead – or my neck!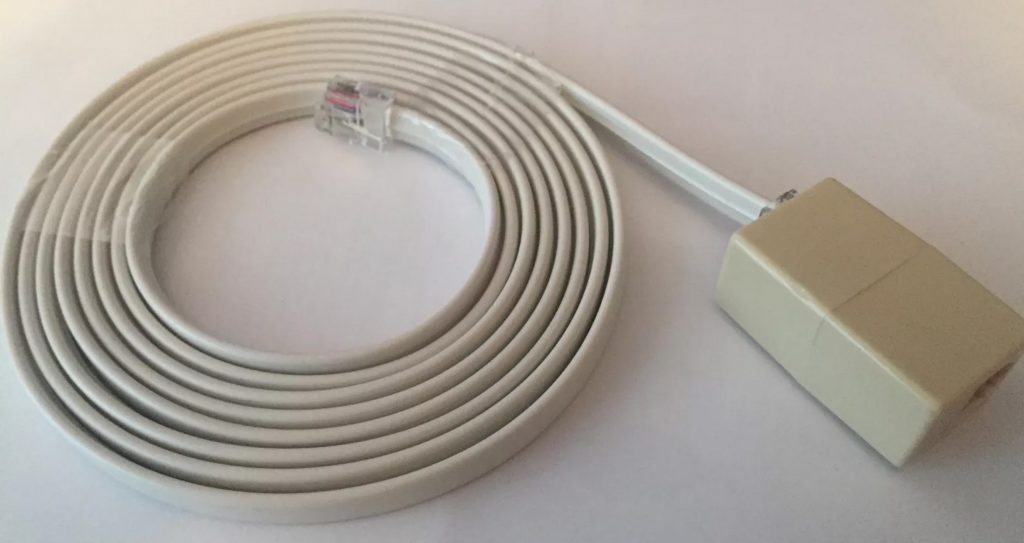 4 metre band plan:
Thanks to Geoff for the list below.
70.000-70.090 MGM and telegraphy.
70.090-70.100 MGM and telegraphy.
70.091 personal WSPR beacons.
70.100-70.250 SSB. Telegraphy. MGM.
70.185 crossband centre of activity.
70.200 centre of activity CW/SSB calling.
70.250 centre of activity MS.
70.250-70.294 AM. FM.
70.260 AM/FM calling.
70.270 MGM centre of activity.
70.294-70.500 FM channels.
70.3125 digital.
70.3250 digital.
70.4500 FM calling.
70.4875 digital.
Links
Zepp end-fed antennas By W8JI
The J-Pole antenna By W8JI
Here's a very good article on the Sirio CX 4-68 aerial by Frits, PA0FRI.