Welcome to 6 metres, the magic band.
I'm now active on the 6 metre amateur band with my Alinco DX70 and a V2000 6 – 2 – 70cms tri-band aerial. Max power from the Alinco on 6 metres is 10 Watts, but that should be fine. I'm hoping to have some CW contacts so I'll be lurking between 50.00 and 50.10MHz when conditions are good. However, I'll be monitoring 51.51kHz FM most of the time.
I've just found this on the RSGB web site… "Most Europe-wide CW and SSB activity will be conducted between 50.130 – 50.300MHz although you should be aware that some countries (such as France) do not have the same band allocations as in the UK."
I have a cunning plan. There's a 20 foot 2 inch pole at the end of the garden. At the moment, there's a 10 element 70cms beam atop the pole. Get rid of the beam, and the pole will be ideal for the triband aerial. The work will commence very soon! 😃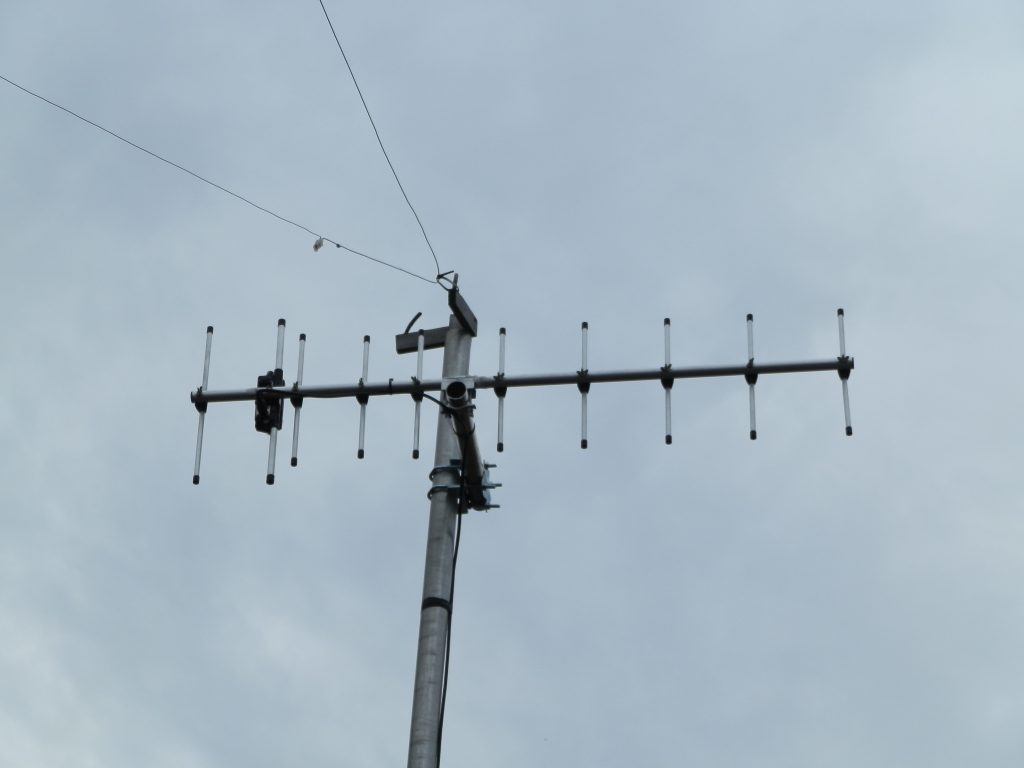 Update: 11th February 2020
The 70cms beam has gone and the V2000 aerial is now on the 20 foot pole. The SWR is 1.05:1 which is unbelievable. I've already had a couple of local contacts with good signal reports both ways. The long radial for 6 metres is pointing east to protect it from the westerly winds. Look at that clear blue sky! Sunny but cold. There's another photo below, with a cloud.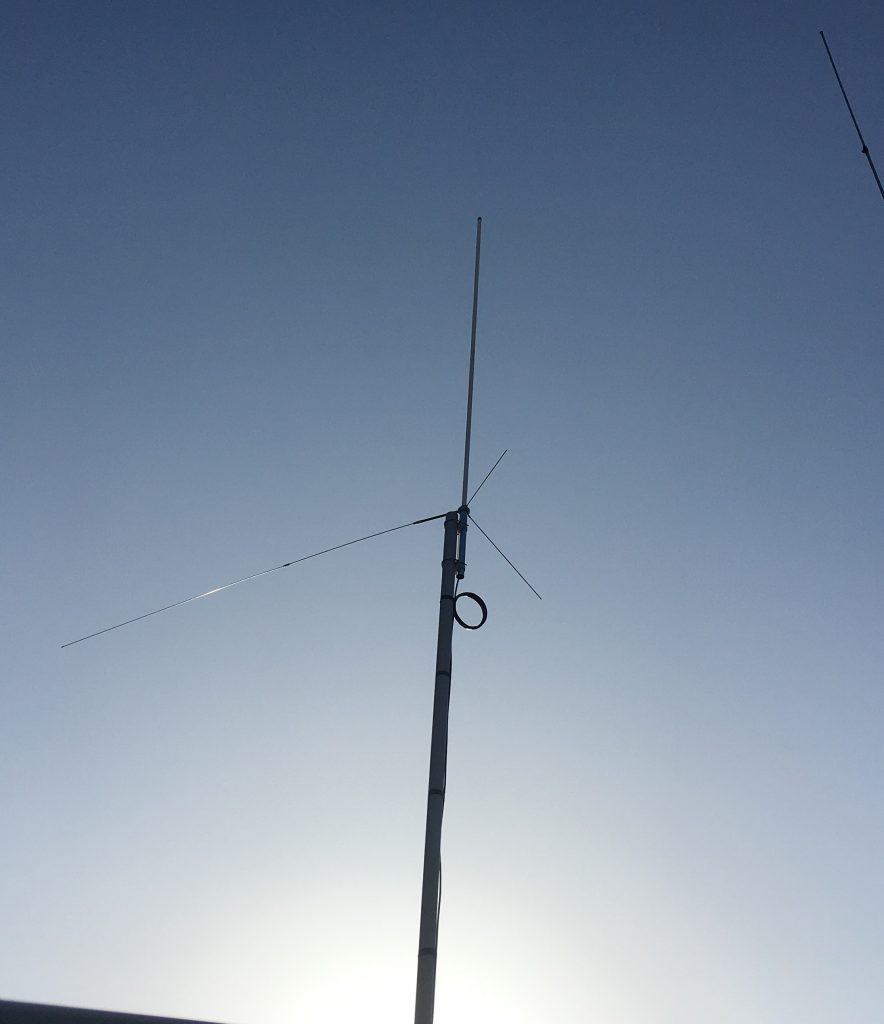 Apparently, the aerial is a half wave on 6 metres. As the length of the pole is only about 2.5 metres, it's not a half wave. However, the long radial is included in equation so I suppose it is a half wave. Other adverts say that it's a quarter wave on 6 metres. What the hell… it works!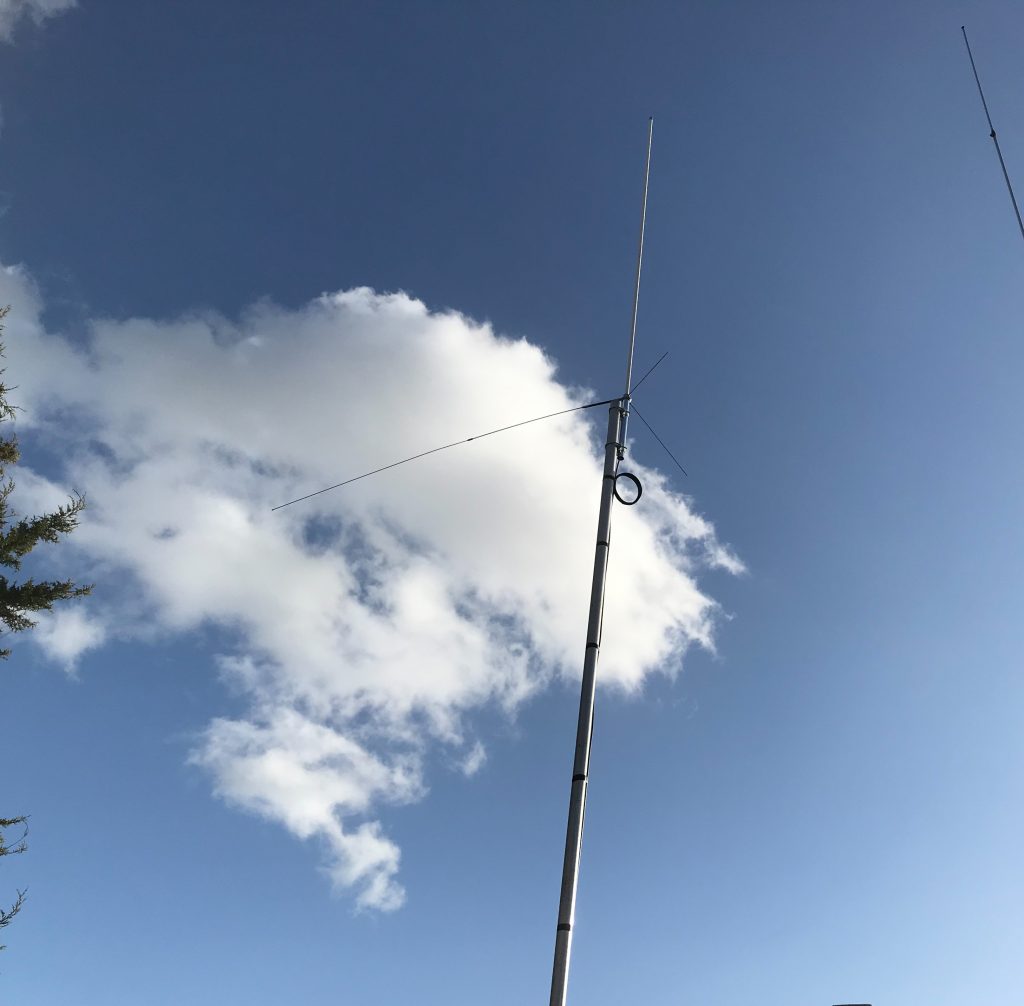 Here are the published specifications for the aerial…
Key Features/Specifications:
Type: Fibreglass vertical colinear
Transmit frequency: 50-52 144-146 & 430-440MHz
Receive frequency: 25-2000MHz
Gain: 6M 3.0dBi 2M 6.2dBdi 70cm 8.4dBdi
Length: 250cm
VSWR: 1.5:1 or better
Power: 200 Watts
Connection: SO239 socket
Radials: 2 X 39cm 1 X 150cm
MK2 Version with wideband receive !!
Update: 5th April 2020.
There haven't been any openings as yet on 6 metres but it's still early days. We're keeping the band alive locally with impromptu chats on 51.51MHz.