Echo Charlie the pirate band
IT IS ILLEGAL TO TRANSMIT ON FREQUENCIES FOR WHICH YOU ARE NOT LICENSED.
(THIS DOES NOT APPLY TO ME!)
By popular demand, this page is dedicated to the decades-old, Echo Charlie 6.6MHz pirate radio.
Echo Charlie Days.
Back in the 1960s and 70s, Echo Charlie was on 6670kHz, or thereabouts. It was known as 6.6 megs, and still is to this very day. When SSB (single side band) became popular on the amateur bands, Echo Charlie operators stuck with AM. This was due to the fact that most pirates back then used 19 sets or similar ex-military gear. Echo Charlie spread around the world with stations from many different countries contacting each other. The infamous 19 set, as shown in the video below, covered 2 to 8 MHz and were inexpensive. They were also fairly easy to modify, which wasn't only fun but educational.
Echo Charlie, stories and other stuff from the old days:
The WS 19 set:
GWM Radio Worthing:
GWM Radio, the Amy surplus shop in Portland Road Worthing, sold 19 sets for 30 bob, that's £1.50 in new money. At that price, I bought several and spent hours modifying them and, in the process, learned a great deal. Thanks to Greg for the photo below. Click on photo for a larger image.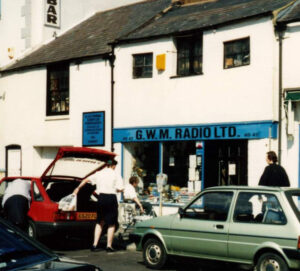 Echo Charlie today:
There are quite a few French stations operating on EC. They are there most days so just tune around and you should find them. You'll also hear several UK stations chatting on the band. In fact, Echo Charlie is an international pirate or so-called free-band. I sometimes monitor 6670kHz when I'm in the radio room but I don't hear many stations. There was a chap on the other day who was chatting to someone about an Echo Charlie revival group. That will be interesting. Another interesting frequency to monitor is 6678kHz USB. There are some strange things happening there!