Audio Introduction
Medium wave:
I believe we are witnessing the slow demise of all AM radio stations on medium wave. So many have closed down recently. To name but a few… BBC Essex, Cambridge, Devon, Leeds, Sheffield, Hereford and Worcester, Stoke, Lancashire, Ulster, Foyle, Three Counties, Mersyside, Newcastle, Solent, Cornwall, York, Absolute… And there are many more now running on reduced power. Possible with a view of closing altogether at some point. I read somewhere that only 2% of Absolute Radio's audience listen to their medium wave transmissions. If that's the case, I quite understand their decision to close their medium wave transmitters.
Long wave:
RTE Radio 1 on 252kHz closed on April 14th 2023. Apparently, long wave is unsustainable as the transmitter in Summerhill, Co Meath costs €250,000 a year and could rise to €400,000. What will happen to the transmitter and the wonderful mast? It will probably be demolished. I just hope that someone will continue on 252kHz. Atlanta 252… that would be awesome. Will BBC Radio 4 follow suit and close its long wave 198kHz transmitter?
I've just discovered that Radio Algeria, Chaine 3 – Arabic language station on 252kHz, broadcasts from Tipaza, Algeria. Power is 1.5 Megawatts during the day and at 750 kilowatts at night. No doubt the demise of RTE Radio 1 will benefit the listeners of Radio Algeria. I can hear music in the background as I listen to RTE, which must be Algeria.
The future:
I suppose it's inevitable that, at some stage, the sections of the RF spectrum known as medium will disappear at some stage.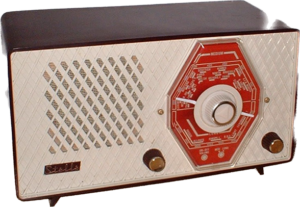 Several people I've chatted with have suggested that pirate radio stations will populate the abandoned medium wave band. But, if no one has a radio capable of receiving the stations then, what's the point? It's called progress and it happens in all industries, but it's still a great shame. I was brought up listening to medium and long wave stations. The BBC Home Service, BBC Light Programme, Radio Caroline, Big L Radio London, Luxembourg 208… Did you, or do you, own an old valve radio like the one here? Or perhaps you still have a transistor radio like the Roberts shown here. I have several transistor radios, all working, that I keep just for old time's sake. I often wonder whether we'll go full circle and AM radio will return. This might be because the internet will explode one day and we'll all be left in silence! I doubt it!
Short wave:
There are a few stations still clinging on to their slots on the short wave broadcast bands, but I reckon their days are numbered. I used to love tuning around the short wave bands at night. There were so many stations crowded into such small parts of the HF spectrum. In fact, some countries decided to do their own thing and transmit just outside the designated bands. They were great days and I really miss them.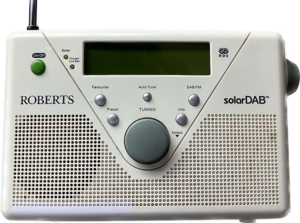 Here's a nice Roberts (Chinese) radio. The problem is, it's FM or DAB. No long or medium wave, which is a shame. I remember the days when most radios covered the short wave bands as well as long and medium wave. Car radios were different, very few covered any short wave bands. Most were long and medium wave only, no FM back in the 1960s. I was lucky enough to get hold of a car radio with short wave, and I loved it!