G4NSJ 70cm Beacon now on the air: here
16/10/22: My interest begins. The RS41 Radio Sonde.
Tracking Radio Sonde weather balloons in the U.K., a great hobby. Pictured below is an RS41 Radio Sonde that my friend, Roy, tracked and recovered. Thanks to Roy for the photos. I've yet to find one but I am keeping an eye on the tracking website and monitoring the frequencies used 400 to 406MHz. As I learn more about these devices, I will publish my findings on this web page.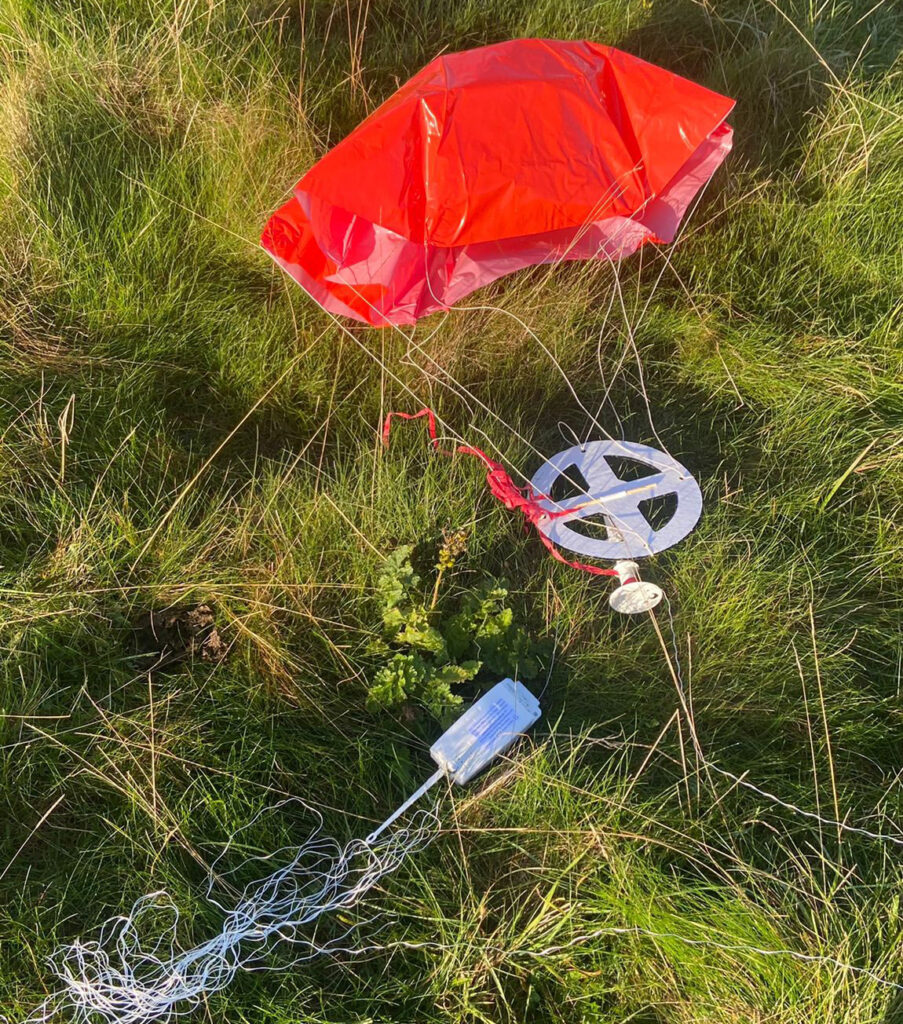 Pictured below is the inner workings of the Radio Sonde.

Here is the Met Office label attached to the Radiosonde.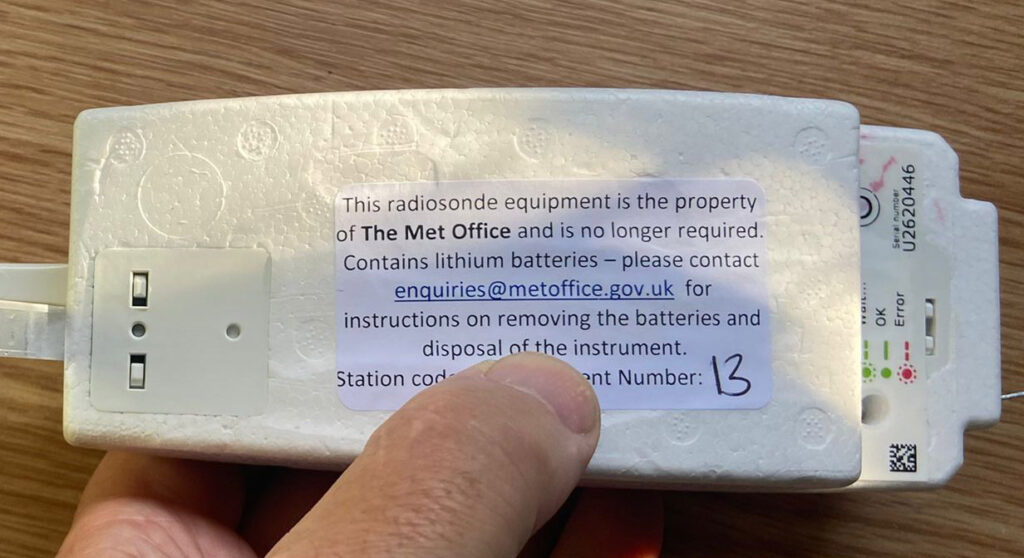 A view inside the Radiosonde showing the batteries.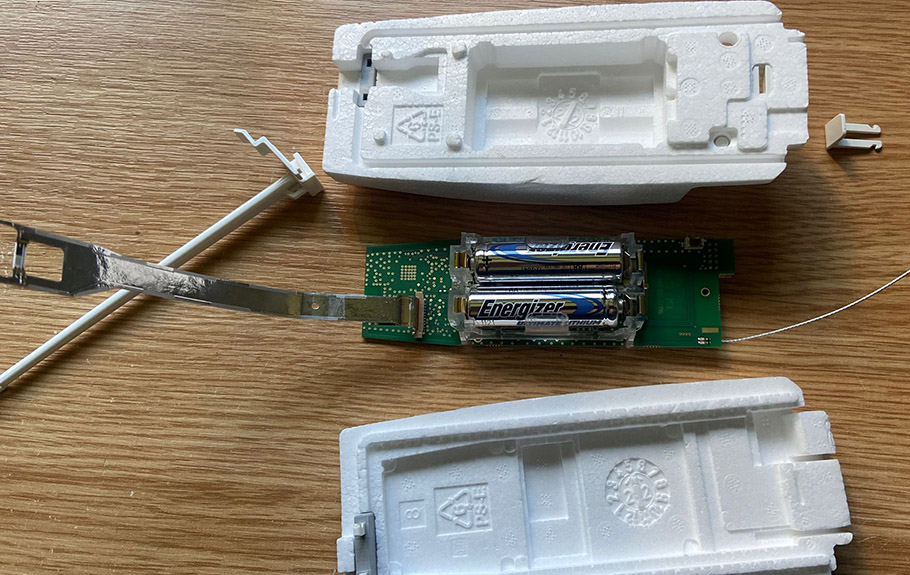 22/11/22: Found near Littlehampton:
Roy has been out in the muddy fields again to retrieve another Radio Sonde, pictured below. The balloon was launched from Larkhill and landed close to Littlehampton in West Sussex. The third photo shows what's left of the balloon. Lastly, the balloon cord and reel assembly. The cord unwinds from the reel as the balloon ascends from the launch site.
Below is the parachute.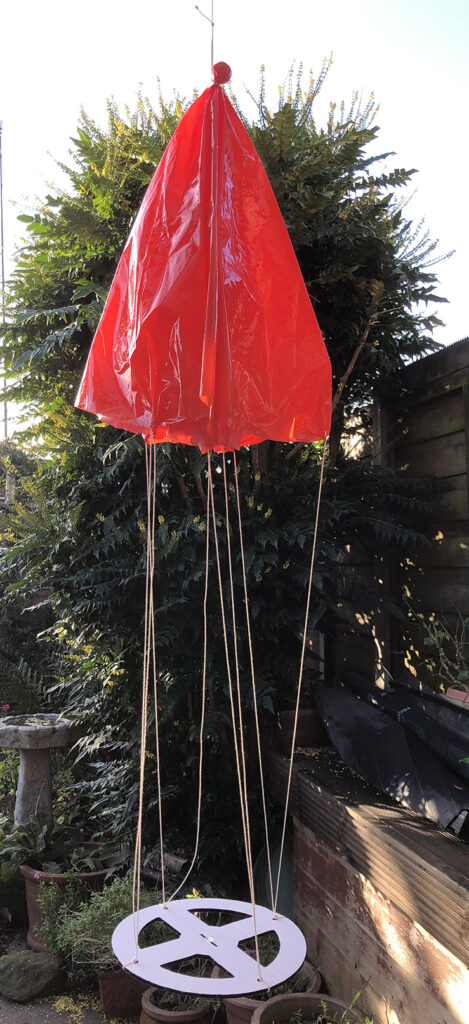 Radiosonde UK Launch sites:
I'll be adding to the list as I discover the UK launch sites.
Aberporth, Wales.
Albemarle, Newcastle.
Camborne, Cornwall.
Castor Bay, N.I.
Herstmonceux, East Sussex.
Larkhill, Salisbury.
Lerwick, Scotland.
Watnall, Nottinghamshire.
Radiosondes are battery-powered devices taken high up into the sky by weather balloons. They measure altitude, humidity, air pressure, temperature and wind, amongst other things. The data is transmitted to radio receivers on the ground. The rubber or latex balloon is filled with helium or hydrogen. The maximum altitude is determined by the diameter and thickness of the balloon. As the balloon ascends, the pressure decreases and the balloon expands. Eventually, the balloon will burst and a small parachute will bring it down to Earth.
Links.
Radio Sonde tracking map here.
Amateur Sonde tracking map here.
Here's a quick video of tracking a Radio Sonde and listening to the transmitted data. Part One.
Here's the second video. Part Two.
Here's yet another video!