I wanted a stereo pre-amp for a project and, while looking for bits and pieces on the internet, I came across this audio mixer. I decided that it would be better than a simple pre-amp and, as it was cheap, I thought I might as well give it a try. I have to say that I'm impressed. It only has two mono inputs and one stereo input so it's nothing special. But it has built-in Bluetooth, a USB port, an MP3 player, a main output plus a recording output… and the sound quality is excellent for the price.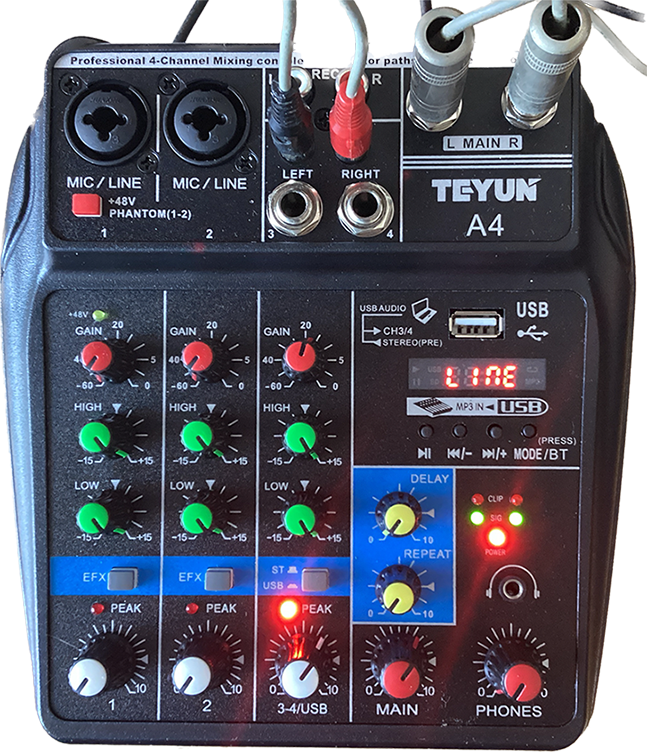 Also, I can plug a memory stick into the USB socket and listen to my music through the MP3 player. As seen in the photo, there are play and pause buttons as well as next or last track. It really is an amazing piece of kit. I'm using the mixer as part of my recording set up for my podcasts. You can listen to my podcasts here.
There's an echo effect which, although I don't use, works very well.
Description:
This was taken from the internet so might not be accurate.
1. A multi-purpose 4-channel mixer, which can meet the needs of users for home music production, online live broadcast, K song cover, etc.
2. The mixer is equipped with, input gain and high and low bass adjustment, built-in 48V phantom power supply suitable for direct power supply of condenser microphones, high-definition headset output port, MP3 player, Bluetooth receiver, with connected PC sound card
3. MP3 player module (USB interface, with display function)
4. 2 channel signal input and 1 channel stereo signal input
5. 1 set of main channel output, 1 set of auxiliary channel output and return connector
6. 1 independent recording output and monitoring port
7. Low noise, high precision microphone preamp, clear and clean sound
8. Balanced microphone XLR input and balanced line TRS input, 3-band channel equalization
9. 48V phantom power supply to provide polarized voltage for input port and easy connection of condenser microphone
10. Headphone monitoring interface; quasi-logarithmic dual 10-bit LED level display
11. Power: 5W
12. Interface: TRS / XLR / USB / BT
13. Frequency response range: 20-20000HZ
Bomaite C6 Mixer:
I've now bought another mixer, the Bomaite C6. See photo on the left below…