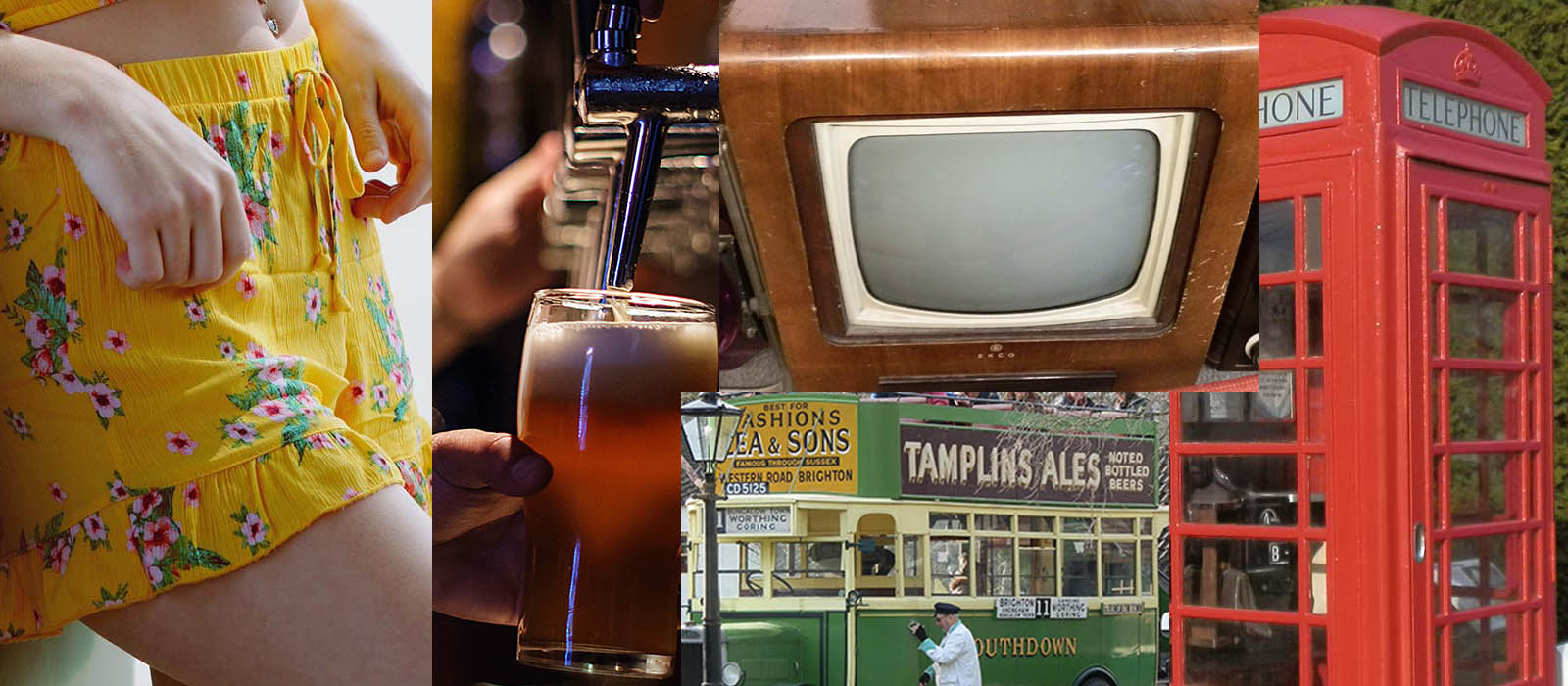 FUN AND NOSTALGIA
My podcast episodes concern pirate radio, amateur radio and vintage valve radio. But there's more… I also talk about the 1960s and 70s… and the 50s! There are stories and anecdotes about the cars, the night clubs and pubs, the pretty girls, the music, the food, the parties, the schools, driving on the roads… I was there, and I have some interesting musings to impart!
If you enjoy my Podcast episodes, I'd really appreciate it if you could follow me or subscribe. The more likes and subscribers I get, the more people will find me. Thanks!
Listen on your iPhone or iPad here.
PODCASTS COMING SOON
Next episode to be released on Sunday 26th January 2020.
PODCASTS AVAILABLE NOW
Family weekends in the 1950s and 60s.
hat did families do on Saturdays and Sundays back in the 50s and 60s? Car maintenance, gardening, picnics, Saturday morning pictures… join me for a look back at those good old days.
Planning permission in the 1950s and 1960s. 
A garden shed, a greenhouse, a TV aerial… All needed planning permission back in the 1950s and 60s. In theory, people weren't even allowed to hang out their washing! Join me for a light-hearted look at crafty ways around planning back in those good old days.
English sayings, phrases and oddities.
Stone the crows! Where did that saying originate? How about, a load of cobblers? The English language is quirky, interesting and forever changing. Join me for a fun look at some of the old sayings and oddities of the language.
Christmas food – then and now.
Can you imagine peeling your own sprouts, shelling your own peas, cracking your own nuts, grating your own cheese, washing your own potatoes… Christmas dinner was a very different affair in the 1950s. Join me in a trip down memory lane. We'll also be looking into dustbins!
Chistmas in the 1950s and early 60s.
What was Christmas like in the 50s and early 60s?
More Newspaper Reviews – 1950s 60s.
By popular demand, I'm reviewing more newspapers from the 1950s and 60s. News, comment, adverts, personal columns… Join me for another trip back in time.
Hobbies in the 1950s.
Train sets, stamp collecting, cigarette cards, matchboxes, Airfix models, Meccano… There were so many hobbies for kids back in the 1950s. Join me in a journey back in time to look at those hobbies.
Summer Holiday – 1950s style.
In this episode, I recall summer holidays in the 1950s. As kids, we were excited when we set off in the car to a caravan park. Running wild in the woods, playing in the river… Cooking wasn't easy for mother in a cramped 1950s caravan, sleeping wasn't exactly comfortable. But we all had fun!
Marriage. 
I'm beginning a new series of episodes called That Reminds Me! In this, the first one, I relate the amazing story of a husband and wife and their five-year marriage. I'll say no more as I don't want to spoil the story.
Newspaper Review from the 1950s, 60s, 70s.
Join me in looking back at newspapers from the 1950s, 60s and 70s.
Home Entertainment over the decades.
From wireless to gramophones to transistor radios to reel to reel tape recorders to cassettes to record players to CDs… How home and in-car entertainment has changed over the decades.
Guy Fawkes night in the 1950s and 60s.
Firework or bonfire night back in those heady days was very different. Kids built huge fires on waste land, they bought penny bangers from the local sweet shop… There was no health and safety. In fact, it was pretty dangerous at times!
School's Out.
What did kids do after school in the 1950s and 60s? There was nothing on television, no computers, mobile phones, social media… In this episode, I'll tell you what we did after school. And it was far from boring!
Wild Parties in the 1960s.
Everyone had parties at their house, or their parents' house, back in the 1960s. There was always a party going on somewhere at the weekends, and they were often wild! The music was loud, the alcohol flowed, inviting odours filled the air, girls danced…
A trip to Bletchley Park.
The Enigma machine, the Colossus computer, the code breakers… I take a trip around Bletchley Park, one of the most secret of secret places during the 1940s and 50s.
School in the 1950s and 60s.
School in the 1950s and 60s was very different. Kids received the cane, six of the best, if they were deemed to be bad. School dinners were disgusting. Conditions were comparatively harsh. My school was like a prison camp run by evil teachers. Join me to re-live some of my experiences in those unhappy days.
Driving, then and now.
Back in the old days, there were far fewer cars on the roads. No traffic jams, no potholes, no one-way streets… How do we cope these days with millions of cars on the roads?
A evening in an early 1970s nightclub.
I'll take you to an English night club where we'll check out the drinks, the fashion and – most importantly – the girls! There's one very lovely blonde girl who… Er… There were many small nightclubs in towns across the UK in the 1970s. Sadly, they've disappeared. What were they like? I'll tell you in this latest episode.

An evening in a 1960s British pub.
Come and spend an evening with me in a 1960s English pub. We walk through the door when the pub opens. We meet the barmaids, the locals and regulars drift in, the juke box plays… In this episode, I spend an evening chatting, drinking beer and people watching. This should be interesting as I'll be chatting in first person, present tense.

The beginning of CB radio in the UK.
I had what was probably one of the first CB rigs in the country. It was the early 70s and I had an American AM rig. This was when no one else was on 27mHz. The band was quiet, until one evening when a voice emanated from the speaker…

Born in the fifties, living in the 21st century.
Our familiar policeman cycles past and waves, the postman delivers the second post of the day, a lady pops into a red phone box to make a call… England in the 1950s and 1960s was far removed from the 2000s. The workplace, the schools, fashion, mini-skirts, hippies, pubs, teenagers, music, love… step back in time with me!

Co-hosting a pirate radio show with 'The Girl'.
I'd never thought myself to be a DJ, until I met Kirsty. Known as 'The Girl' she was a DJ on a London pirate radio station. She had her own studio, she was professional, and when she asked me to co-host her weekly show with her, I couldn't believe it! This is the story of 'The Girl', pirate radio, the studio, the music, the beer… and me.

Cars Girls and Radios.
Cars, girls and radios… not a good mix? In this podcast, I recall the happy times during the 1960s and 70s when I had cars fitted with aerials, amateur radio and CB gear… and girls. I hope you enjoy my recollections of chatting on CB and amateur radio, visiting pubs and going clubbing and…. all at the same time?

Radio and Television in the 1950s and 60s.
Radio and television was very different in the 50s and 60s. There was one TV channel, the BBC. There were three BBC stations on long and medium wave – news, classical music and light music. So, the youngsters flocked to Radio Luxembourg on 208. But that was only available at night. Then, the pirates arrived, Independent Television arrived… … and things changed dramatically.

Recollections of GWM Radio Worthing – part two.
Part two of the GWM Radio anecdotes is here! Part one was released on Monday 15th July 2019.

The early beginnings of an apprentice radio and television engineer.
I was only fifteen when I started work. Fun in the radio and TV workshop, fun in the pubs and clubs… life couldn't have been better! From my initiation in a cardboard box with a fan heater to losing a customer's television… being an apprentice was all go!

Recollections of the Marine Trawler Band.
Many years ago, I was a marine radio engineer working on the boats. Do you remember listening to coastguard stations and ships on the Trawler Band? Niton Radio, Humber Radio, Dover coastguard…  I'll be recalling some of my visits to various boats to sort out their radio gear, some of which ended up in the sea! I'll also be recalling the many hours I spent listening (and talking) on 2182kHz on the trawler band.

Recollections of GWM Radio – part one.
I spent many happy hours in GWM Radio, an army surplus shop in Worthing. Here are a few of my recollections of that amazing emporium.

CCF Pirate Radio Memories.
Recollections of the CCF, Combined Cadet Force, radio communications on 5330kHz Delta Oscar. Pirates, authentication codes, 19 sets, regular nets… They were happy days!

Echo Charlie Pirate Radio.
This is my first podcast about the happy days of pirate radio on the short wave band known as Echo Charlie 6.6 mHz. Many radio amateurs began their radio hobby as pirates using WS No 19 set radios on Echo Charlie. Here, I talk about those heady days.

FEEDBACK
Let me know what you think of the podcasts. Which ones do you like or dislike. What do you want more of? Please email me.
My Podcast page.
RSS FEED:  https://feed.podbean.com/radioray/feed.xml
Copyright-free photos and music.
The photos I use are either mine or come from https://unsplash.com/
Music I use in some episodes is from https://www.fesliyanstudios.com/
Back to the 1960s 70s and 50s sexy English girls mini-skirts music beer pubs clubs cars nightclubs the workplace radio television women love and much more…