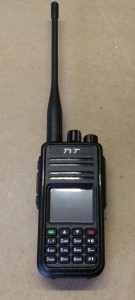 I'm now the proud owner of a TYT MD UV380 DMR FM handheld. It covers 70cms and 2 metres as well as VHF marine frequencies and PMR 446. This is a professional rather than amateur radio so the programming is somewhat complex… until you get used to it. You will need to download the programming software and a codeplug. To be honest, setting it up was beyond me so I enlisted the help of Roy, a genius with most things radio and computer related.
I've never been into digital comms and have no knowledge whatsoever of how it all works. But, I've now been on a couple of repeaters and chatted on Hubnet. I've been working mainly through our local repeater, GB7CQ – and making some procedural mistakes! Leaving up to 10 seconds before replying to a station takes some getting used to. And there's no K on digital repeaters.
I do have one problem… I've run out of aerials! The radio could do with a dual band 2 metre 70cms aerial but, for now, it's connected to a 10 ele 70cms beam. Unfortunately, I'm too far away from our 70cms digital repeater to employ the radio's rubber duck aerial.
UHF  400-480 MHz
VHF  136-174 MHz
Manual here.