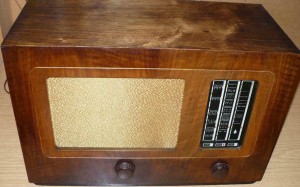 This radio is quite rare. It's uses a modified Bush AC91 chassis and covers short wave as well as long and medium wave. If you know the DAC90 or AC91, you'll recall that the tuning knob is on the right hand side of the cabinet. That's the case with this radio, leaving just two control knobs looking rather lonely on the front. It's a lovely old radio with a decent size speaker. Perhaps a little too large for smaller rooms.
RADIO SPECIFICATIONS
Manufactured from 1947
Long Medium and Short Wave
Valves – CCH35 – EF39 – EBC33
CL33 – CY31- AC Supply
The service manual for this radio is available in the Members' Area here.
VINTAGE RADIO INFORMATION SITE.
I DO NOT REPAIR RADIOS.