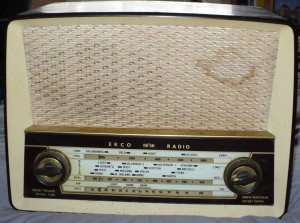 This radio came in recently and is pretty grubby. It will clean up beautifully, including the speaker cloth.
RADIO SPECIFICATIONS
Manufactured from 1957
Long and Medium Wave plus VHF FM
Valves – UCC85 UCH81 UF89
UABC80 UL84 UY85
AC-DC Supply
The service manual for this radio is available in the Members' Area here.
VINTAGE RADIO INFORMATION SITE.
I DO NOT REPAIR RADIOS.