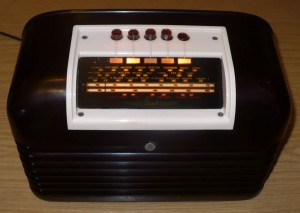 The Bush DAC10 radio was introduced in 1950. It uses a chassis very similar to the DAC90A, but the DAC10 has push button pre-set station tuning as well as manual tuning. There are two pre-set buttons for medium wave and one for long wave. I specialise in repairs, servicing and restoration of Bush DAC10 valve radios so, if you own one of these lovely radios, don't hesitate to contact me.
RADIO SPECIFICATIONS
Manufactured from 1950
Long and Medium Wave
Valves – UCH42 UF41 UBC41 UL41 UY41
AC/DC Supply
Service Manual HERE
VINTAGE RADIO INFORMATION SITE.
I DO NOT REPAIR RADIOS.