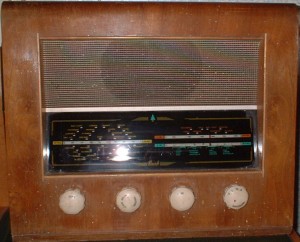 Unlike most vintage radios in my collection, the Bush DAC41 doesn't have it's own frame aerial. There is, of course, an aerial socket on the rear of the radio.
The set is AC/DC and has long, medium and short wave bands. I must say that, although not one of the most expensive radios of its time, it's certainly one of my favourites.
RADIO SPECIFICATIONS
Manufactured from 1954
Long Medium and Short Wave
Valves – UCH42 UBF80 UL41 UY41
AC/DC Supply
The service manual for this radio is available in the Members' Area here.
VINTAGE RADIO INFORMATION SITE.
I DO NOT REPAIR RADIOS.