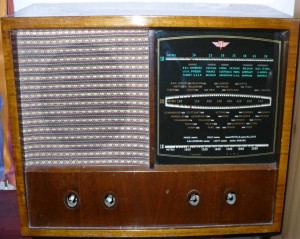 This is a lovely radio in great condition, but there's one major problem, the knobs are missing. I've checked the internet and can I find any? Sadly, no. With long medium and short wave, this KB LR10 is a little gem.
RADIO SPECIFICATIONS
Manufactured from 1954
Long Medium and Short Wave
Valves – 6BE6 6BA6 6AT6 6AQ5 6X5GT
AC Supply
Free service manual here.
VINTAGE RADIO INFORMATION SITE.
I DO NOT REPAIR RADIOS.