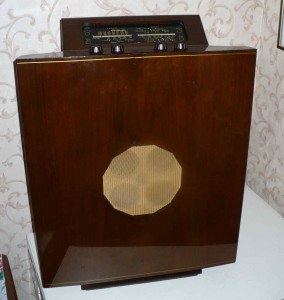 Manufactured by Murphy, this lovely piece of furniture covers long, medium and VHF-FM. With a huge loudspeaker mounted behind a large baffle board, this floor-standing console radio not only looks good but sounds great. The cabinet is completely original with only a few marks reflecting its age. The Murphy A272,  real radio.
RADIO SPECIFICATIONS
Manufactured from 1957
Long, Medium and VHF-FM
Valves – ECC85 – 6C9 – 6F18
EABC80 – 6P1 – UU9
AC Supply
VINTAGE RADIO INFORMATION SITE.
I DO NOT REPAIR RADIOS.