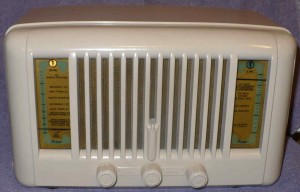 This Little Maestro radio has a mains transformer which supplies 6.3 Volts for the valve heaters, but the HT is taken directly from the mains. Hence, this radio has a live chassis. This is a lovely little radio and, even with a five inch speaker, the sound quality is perfectly acceptable. A nice addition to any collection.
Sorry, due to lack of spares, this is a model I no longer repair.
RADIO SPECIFICATIONS
Manufactured from 1949
Long and Medium Wave
Valves – 6K8GT – 6K7GT
6Q7GT – 6V6GT – 6X5GT
AC Supply
Service Manual HERE
VINTAGE RADIO INFORMATION SITE.
I DO NOT REPAIR RADIOS.