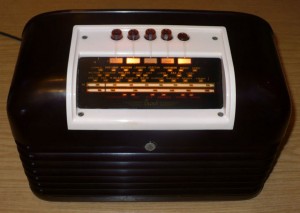 The Bush DAC10 radio was introduced in 1950. It uses a chassis similar to the DAC90A, but the DAC10 has push-button pre-set station tuning as well as manual tuning. There are two pre-set buttons for medium wave and one for long wave, making the radio easy to use.
The DAC10 is another classic from Bush. They look good and they sound good, which makes them an ideal radio for every day use around the home. When restoring these radios, I tune the long wave pre-set button to BBC Radio 4. Depending on the geographical location of the radio, I usually tune the medium wave buttons to a local BBC station and Virgin or 5 Live.
Here is an example of a very dusty DAC10 chassis!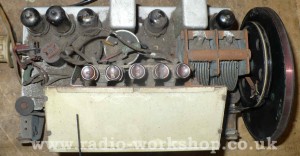 Release date January 1950
Original price £14 10s later reduced to £13 19s 8d (purchase tax extra)
Manual tuning on long and medium wave plus three pre-set buttons
Valves – UCH42 UF41 UBC41 UL41 UY41
AC/DC Supply
There are no user serviceable parts in any valve radio, and the Bush DAC10 is no exception. In fact, like many vintage radios, these have a live chassis so disconnect the radio from the mains before removing the back cover. Better still, do not remove the back cover.
VINTAGE RADIO INFORMATION SITE.
I DO NOT REPAIR RADIOS.