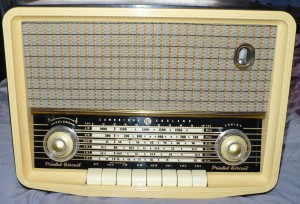 This must have been one of the first radios to use a printed circuit board rather than a hard-wired chassis and Pye have proudly stated – Printed Circuit – on the dial. With an EL84 output valve, the sound quality is good. It covers long and medium wave but it also has four short wave bands.
RADIO SPECIFICATIONS
Manufactured from 1958
Long Medium and 4 Short Wave Bands
Valves – ECH81 EF89 EBC81
EL84 EZ80 EM81
AC Supply
VINTAGE RADIO INFORMATION SITE.
I DO NOT REPAIR RADIOS.