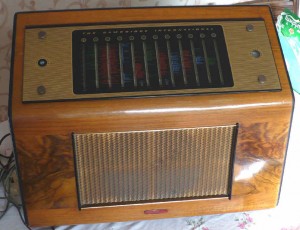 This was a top of the range radio by Pye. The exceptional PE80 international features include… A push pull audio output stage with a ten inch speaker, an RF amplifier, nine short wave bands, a magic eye tuning indicator, a decent tone control circuit, nine valves and a magnificent contrasting walnut cabinet.
This is a big radio so don't buy one for your bedside table. You will also need a decent outside aerial to make the most of the short wave bands.
RADIO SPECIFICATIONS
Manufactured from 1954
Long, Medium and nine Short Wave bands
Valves – EF41 – ECH42 – EF41 – EBC41
EM34 – EBC41 – EL41(2)
AC Supply
Cost new, in 1954 – 40Gns (£42)
The service manual for this radio is available in the Members' Area here.
VINTAGE RADIO INFORMATION SITE.
I DO NOT REPAIR RADIOS.